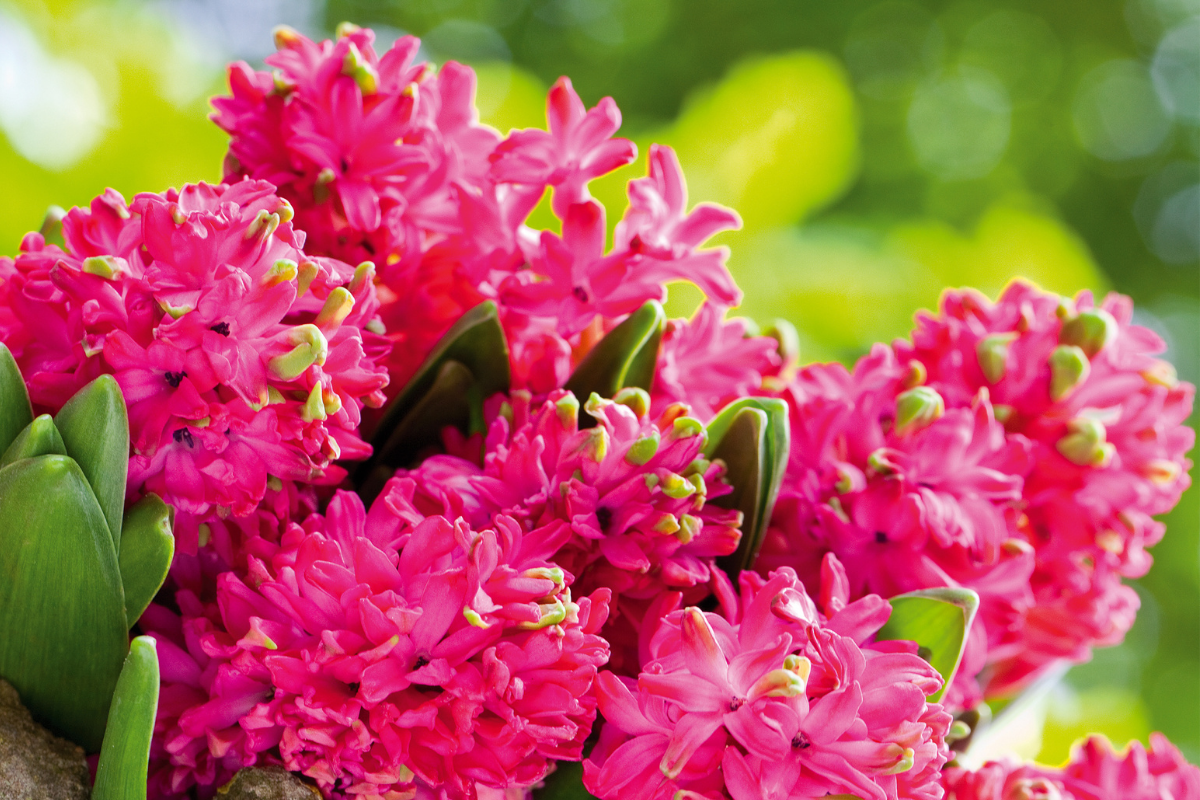 Hyacinths: Spring is in the Air
Ever watch a hyacinth come into bloom? Each floret, held close to the main stalk, unfolds one by one taking on colour, until the many flowers become one delightful floral stem. Just a hint of their intoxicating sweet fragrance lets you know that spring is in the air.
Hyacinths originate from a highly fragrant, wild blue flowering plant found in the high mountains of Turkey, Syria, and Lebanon. The bulbs we plant in our gardens today are hybrids of those plants.
Each bulb produces a single compact, dense stem bearing 60-70 delicate, bell-shaped florets. They are cherished for their sweet scent and are available in a rainbow of colourful shades including white, peach, apricot, yellow, salmon, pink, red, purple, lavender, and blue. These bulbs are known as Hyacinthus orientalis.
Another type, Hyacinthus multiflora, is much closer in form to the wild species. These bulbs bear up to six stems of flower clusters. Florets are loosely arranged along each stem, making for an attractive and fragrant bouquet. Blooming 2-3 weeks in mid-spring, these hyacinths bring a soft and natural, lighter, and more informal look to the garden. Plant the bulbs where you'll be able to enjoy the fragrance daily – in a container on the front doorstep, patio, deck, or along a path or walkway. Combine them with other bulbs in your flower beds and mixed borders.
Festival Hyacinths are award-winning multiflora hyacinths having received the RHS Award of Garden Merit. They are available in soft purple-blue, pale pink, and snow-white shades. Easy to grow, they offer the best visual impact when planted in groupings of 3 or more bulbs. Plants reach 25 cm (10") in height. Hardy to Zone 5.
Hyacinths are easy to grow. In the garden outdoors, plant the bulbs in a dappled shade or full sun location in well-draining soils that are rich in organic matter. Plant bulbs 15 cm (6") deep spacing them 15 cm (6") apart. Cover and leave the bulbs to settle in for the winter. Once hyacinths have flowered in the spring, remove the flowering stalks and allow the foliage to wither. Avoid clearing the foliage until every leaf has turned brown. Hyacinths do return each spring, although with time their blooming stems become less dense and airier. You can feed garden hyacinths a bulb fertilizer in the fall to encourage root and bulb formation.