Garden Innovations: Bringing Technology into the Garden
Are you a cut flower gardener, veggie enthusiast, patio paradise designer, or indoor tropical plant parent who loves technology and all the newest innovations? Whichever type of gardener you are, technology provides many features to help make your garden beautiful and productive. There are new innovations that maximize the efficiency of garden maintenance so you can have more time to relax and enjoy your garden. By taking advantage of garden apps and innovative gardening ideas, gardeners can have more insight into the plants in their garden, assistance in taking care of their yard and plants, and helpful knowledge and reminders as their garden grows.
Indoor Plant Technology and Innovations
Self-Watering Plant Pots
Are you over-watering or forgetting to water your plants? Self-watering pots can be useful for those who have a little trouble keeping up with the watering of their plants, and during short vacations. A self-watering pot uses a reservoir which the plant's roots have access and can adsorb water at their own pace, as needed. Water level indicators with have the ability to monitor the amount left in the reservoir are very helpful too.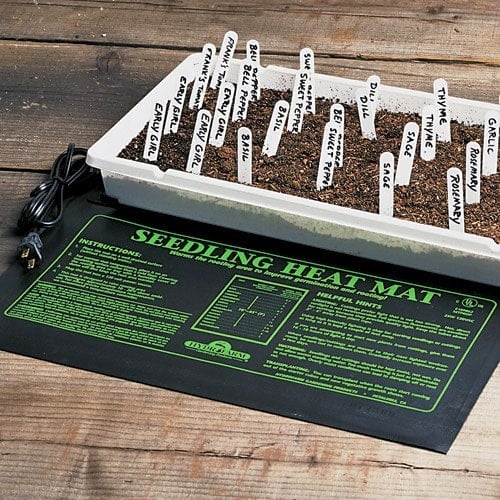 Seed Heating Mats
Love starting seeds indoors?  If you do, then you already know some varieties of veggies, herbs, and cut flowers are best started off indoors during late winter. Seeds such as tomatoes, peppers, oregano, petunias, and even your begonia and dahlia tubers benefit from starting indoors weeks before the last frost. Give them a good head start to get past the frost-tender early stages before being transplanted into your garden. When starting your seedlings indoors, a seedling heat mat is useful. These durable mats are waterproof and placed below your seedling trays to produce a consistent heat of 22-30°C. The consistent warm soil temperature will help your seeds germinate quicker and your tubers break dormancy faster. Once sprouted, move your trays to a bright area that is regular room temperature and where they will develop deep roots and resilient stems and foliage.
Image source: Planetneutral
Smart Greenhouses
Greenhouses are a wise addition to the garden. Be it small or large, there are many different greenhouses that can help you be more successful with plants and vegetables and extend your growing season. With new technology, there are greenhouses available that can be preset or controlled directly through your smartphone. Your greenhouse will be able to send you alerts no matter where you are, to let you know if the temperature gets too low or too high, or if the moisture level is undesirable. Automatic watering features come in very handy. With such variable weather in cities across Canada, we all know how weather can turn from warm to cold in a matter of hours. With smart greenhouses, the roof sections can automatically open and shut to vent heat or prevent heat from escaping.
Robotic Mowing System
Is your garden to-do list longer than you would like? Why not take a task off your list? Instead of spending time mowing the lawn (or trying to get your kids outdoors to do it), how about using a robotic mower? Sounds futuristic, doesn't it? Well, surprisingly these devices are now mainstream and do work successfully. If you do have a very tall field of grass to start with, the mower will have some issues, but for the weekly trimming, they are ideal. So, keep your lawn golf course manicured and party-ready all season long.
Irrigation
Automated irrigation systems help gardeners keep their gardens watered without having to remember to turn the garden hose on and off. With garden irrigation systems, gardeners can have access to water-efficient technology that can help keep gardens lush and beautiful. Plants need water, and it's very convenient to have automatic watering systems do the work for you when you are not available. When on a vacation in the summer, utilize your smart watering system and make sure your garden beds are well taken care of. With smart irrigation systems, you can set timers for your watering schedule and control the watering system from your smartphone. Did an unexpectant downpour just begin, but you are out of the house? Simply log into your phone and turn off your sprinklers. Automated irrigation systems help keep gardens watered without having to remember to turn the garden hose on and off. Smart garden technology also allows gardeners to monitor the conditions of the garden from anywhere, in real-time.
Apps
For gardeners who want extra knowledge and assistance, there are several apps that can help with planning and garden care. Access to a wealth of information and support is available through a smartphone or tablet! There are apps that can help gardeners plan their garden beds, track garden chores, keep records of plants and soil conditions, and even provide reminders for when it's time to water or fertilize. Many apps are free; however, some higher-level functions require a paid subscription.  
(Please note we do not sponsor any of these apps, however, our Florissa team has found them to be helpful).
Garden Pro (vegetables)
Are you a fruit and vegetable gardener? Garden Pro is a helpful app for those who like to plant tasty edibles in their garden. In this app, you log in with the size of your garden, how much sunlight it receives, the soil type, and pH type, and you will be provided with a list of vegetables with the best success for your garden. Within that list, it will notify you of which kind of garden pests you need to watch out for, such as aphids. For each vegetable or fruit you add, it will also give you information on health benefits, temperature, watering, height and width, soil requirements, and the sprout-to-harvest timeline.
Plant Net
Plant Net is a helpful app that is very handy to have downloaded on your smartphone. Have you moved into a new home with an established garden? Plant Net is a wonderful app to identify all varieties grown in the garden. With Plant Net, simply take a picture, and wait for it to quickly analyze the image and present you with the name of the variety! This is also beneficial if you come across a plant or flower you would like to purchase for your garden. Quickly take a snapshot with your app, and you'll know what you need to get at your garden store on your next trip!
Smart Plant Home
Helpful for both indoors and outdoors, Smart Plant Home lets you know when to pay attention to your precious plants. Simply log your plants, both indoors and out, and it will send you notifications and mark on the app's calendar which tasks are coming up for each plant. Each plant description includes a small write-up, including light, watering, and soil requirements.
Gardeners are embracing technology like never before. No matter what type of gardener you are, technology can offer many features to help make your garden beautiful and productive. Work smarter, not harder, and have technology work for you!  By utilizing innovative gardening ideas and garden apps you and your plants will benefit from the extra knowledge and assistance.