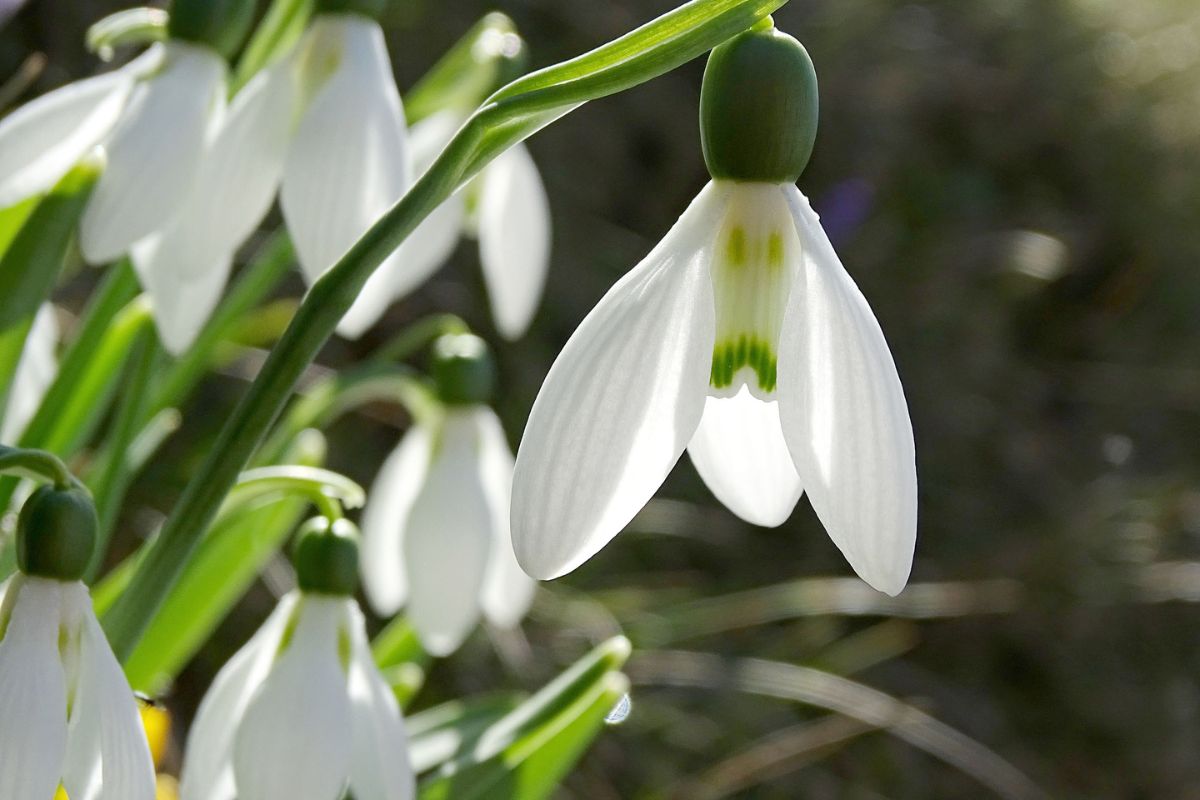 Favourites for Fall: What's on Our 'Must Plant' Lists
A favourite quote from Audrey Hepburn is "to plant a garden is to believe in tomorrow." Nothing is more the case than planting bulbs in the fall with the promise of blooms, 4-6 months away in spring. The fall planting season is always an exciting time. There are so many bulbs to choose from. Shopping for spring flowering varieties is fun, and with countless options, it can become quite overwhelming! We hope this list of favourite varieties from our Florissa team members will inspire you to discover new varieties to add to your garden!
---
My favourite bulb to plant in the fall is Galanthus (snowdrops). When I was growing up, my garden was covered with a blanket of white delicate snowdrops in early spring. Being a wonderful childhood memory, snowdrops are an addition I made to my garden years ago. They work very well in the fronts of my garden beds, beneath my deciduous trees, and in containers. Even though I don't have any deer in my neighbourhood, it's great to note that your snowdrops will be safe from these garden intruders. These short flowers grow from 10 cm (4") to 25 cm (10") and are fabulous at naturalizing. Over the years, the snowdrops in my garden have multiplied! For a large impact, I plant my bulbs in clusters, ideally in part shade locations. Another thing I love about snowdrops is the time they bloom. After a dreary, cold, and wet winter, they are the first to appear in the garden! They pop their heads out from the cold ground in late winter to very early spring. It's great seeing flowers appear in my spring garden at such an early time. Even through the snow and ice, snowdrops will be there to welcome me into spring!
-Laura
---
As someone who is just transitioning into townhouse living, unfortunately, I don't have a lot of space for gardening. I'm adding containers to my patio area to be able to grow my favourite flowers. I can't give up my must-have fall-planted bulbs. Even though I have yet to fully unpack, I have already bought containers, soil, and picked up my favourite spring flowering bulb, Narcissus Delnashaugh. I can't wait to see these peach and white blooms in the containers around my new home! I always like to add some tulips, hyacinths, and crocus in the containers as well, but Delnashaugh is the star! This double narcissus growing to 35 cm (14") is great for naturalizing and is deer resistant. I will also be cutting these flowers to bring them inside to enjoy in vases.
-Emily
---
As I am dreaming about my spring garden the transition from dreams to action begins with my garden plan. In all my garden spaces I have a mix of trees, shrubs, perennials, berries, and naturalizing bulbs, but there are always spaces for rejuvenation. My handy garden plan gives me a quick reminder of what is planted where, and it saves me from digging into the middle of my clump of alliums. So, what to plant when there are so many varieties on my wish list? I find that every year I am drawn to Fritillaria meleagris. These bulbs grow the most amazing and unique blooms. With the common name Checkered Lily, the pattern of deep burgundy and white pixels draws me in. The blooms add a bold yet fanciful touch in mid-spring. The thin 20 cm (8") tall stems blend into the garden greenery so that the blooms look like they are floating in the garden border, which just adds to the mystique. The soil in my corner of the world is heavy with clay, so I am thankful for the raised beds that are filled with a well-draining mix that makes gardening easier. As a smaller bulb variety of fritillaria, they are deer resistant and protect some of the other bulbs, which makes them ideal for mixed containers too. Meleagris naturalizes very easily, so when I plant a few bulbs in an area, they will multiply and gift me with more flowers each year. These beauties are hardy to zone 3 so they breeze through harsh winters too. Checkered lilies check all the boxes and fulfill the promise of blooms each spring.
-Dianne
---
When I choose which bulbs to plant in the fall, I like to be methodical and think about which colours will meld best and make the most artistic and dramatic impact. Planting my garden is like composing a symphony – I create a harmony of visual delights. Therefore, when I'm planning what to plant in the fall, there are always two tulips I like to plant together. I love to have a look of elegance in my garden, and that's why I love to plant tulips Rem's Favorite with Hakuun. By itself, Rem's Favorite is a class act, with its deep, purple-striped, white petals. When you pair it with the pure white Hakuun, the garden is raised to a new level of sophistication. Every fall, I plant these two tulips in a large container near my front door and I don't add any other varieties. I love to show off this tulip combination! Both grow to a height of 55 cm (22"), and they are nice to use as cut flowers as well. I make sure to grow some in other areas of my garden as well, so I am prepared with tulips to give to friends and family.
-Rebecca
---
I like to make a huge statement in my garden! Growing to 120 cm (4') tall, with an 8" circumference, Allium Giganteum adds a stunning pop of purple to my garden beds. The blooms tower above my young daughter's head! I tend to have a lot of deer in my area, so planting this deer-resistant bulb in my garden is very beneficial in warding off unwanted guests. A fun pastime of mine is putting together bouquets from the blooms I grow in my garden. With Giganteum's firm stems and big blooms, they are a fun addition to make a whimsical arrangement. As an extra bonus: these garden giants welcome much-needed pollinators to my garden! If you are interested in learning more about alliums, the different varieties, and planting, growing, and care, visit our blog All Things Alliums.
-Tessa
For information on where to find these and other great Florissa products, please inquire on our Find a Retailer page.
So those are our favorites for fall, what are yours? Please share them with us. Happy planting!