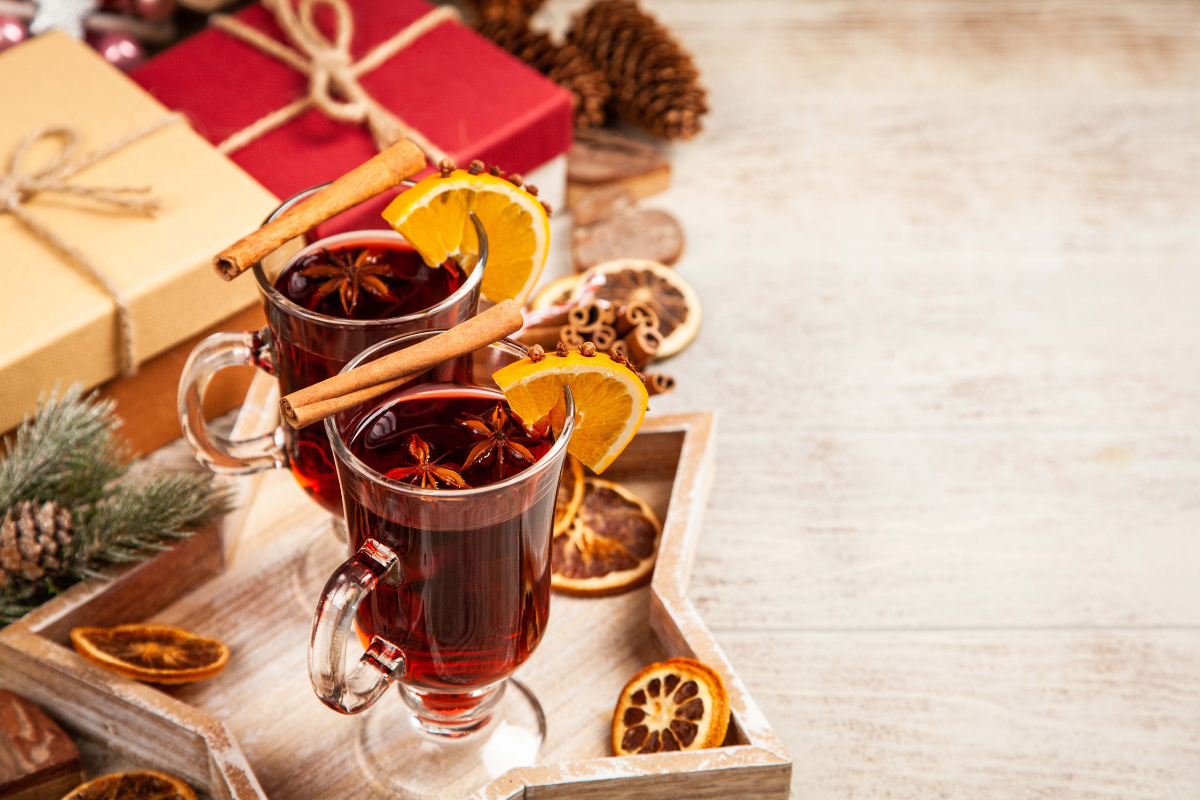 Cheers to a Merry Christmas
Merry Christmas and Happy Holidays to all our readers. Everyone here at Florissa hope this is a time of joy, peace, and comfort. As you spend time with those you love, we want to share some of the best holiday drinks we enjoy during this season. Whether you're getting together with friends, or just cuddling up with a book by the fire, these will do the trick. From a family homemade hot chocolate recipe, to a cranberry martini, there is something for everyone to enjoy!
Home-Made Hot Chocolate
(makes 4 cups) – by Emily
If you are looking for a quick and easy hot drink to enjoy by the fire or curled up on the couch watching your favorite Christmas movie, look no further than hot chocolate. This recipe has been in my family for years, tried and tested, and delicious.
6 cups of milk (or milk substitute)
1 bar of chocolate (I use Neilsen jersey milk)
Optional toppings:
Whipping Cream
Crushed candy canes
Mini Marshmallows
Cinnamon Stick
The How To:
Pour milk in to a saucepan and heat over stove at medium heat.
Break the chocolate bar into smaller pieces.
Once heated to a warm temperature (you can do the spoon test to see temperature), add in the chocolate and continue stirring until the chocolate is fully melted and the temperature is to your liking.
Pour the hot chocolate into the mugs and add any topping to make it more festive. My favorite is to add in a few mini marshmallows and crushed candy canes.
Mulled Wine & Cider
(makes 10 – 12 cups) – by Tessa
When I am feeling like getting in the Christmas mood or coming in from a walk in the winter snow and needing a warm up, the mulled wine (and cider) is my drink of choice. It takes me back too all of the European Christmas markets, the cool air, and the hot drink keeping me warm as we walk around all the booths. You can always start making the mulled wine in a crock pot, go for a walk, and then have it ready to go for when you return. A sure classic for the festive season.
Ingredients:
Mulling spices:
3 cinnamon sticks
3 whole star anise
1/4 tsp black peppercorns
50g (1/4 cup) sugar (take out if you are making cider)
2 small chunks peeled fresh ginger
1 lemon peel
1 orange, sliced
For mulled Cider:
3L (12 cups) of Apple Juice
For mulled wine:
1 bottle red wine (our favorite is to a Merlot)
1L (4 cups) Apple juice
The How To:
Place all of the ingredients in a saucepan and simmer for 30 mins.
Serve hot. Add in a cinnamon stick or some of the orange slices for the sauce pan to the mugs as a decoration.
The "Crantini" Cranberry Martini
(makes 2 martini's) – by Rebecca
The is my go-to for all my Christmas parties. Whenever I am hosting, the Crantini is a great way to add some holiday cheer into the party. It is a really quick and easy recipe, looks super festive, and tastes delicious.
Ingredients:
6 ice cubes
1-ounce (2 tbsp.) vodka – I like to use vanilla vodka
1-ounce (2 tbsp.) 100% cranberry juice (make sure it's not sweetened)
1/2-ounce (1 tbsp.) Cointreau
1/2-ounce (1 tbsp.) lemon juice
2 tsp. simple syrup (in true Canadian fashion I use maple syrup)
Optional:
Granulated sugar, for decorating the rim
Garnish – fresh cranberries, blackberries, lemon wedge
The How To:
Cut a notch in the lemon wedge and run the lemon around the rim of the martini glass. Dip the edge of the rim into a plate of sugar.
Place ice, vodka, cranberry juice, Cointreau, lemon juice, and syrup in a cocktail shaker. Shake for 15 seconds until cold.
Strain the drink into the martini glass. Garnish with cranberries, blackberries, or lemon wedge.
Enjoy!
We hope you enjoy these festive drinks! Wishing everyone a very merry Christmas and a Happy New Year. We look forward to you joining us in the new year for more fresh gardening inspiration.