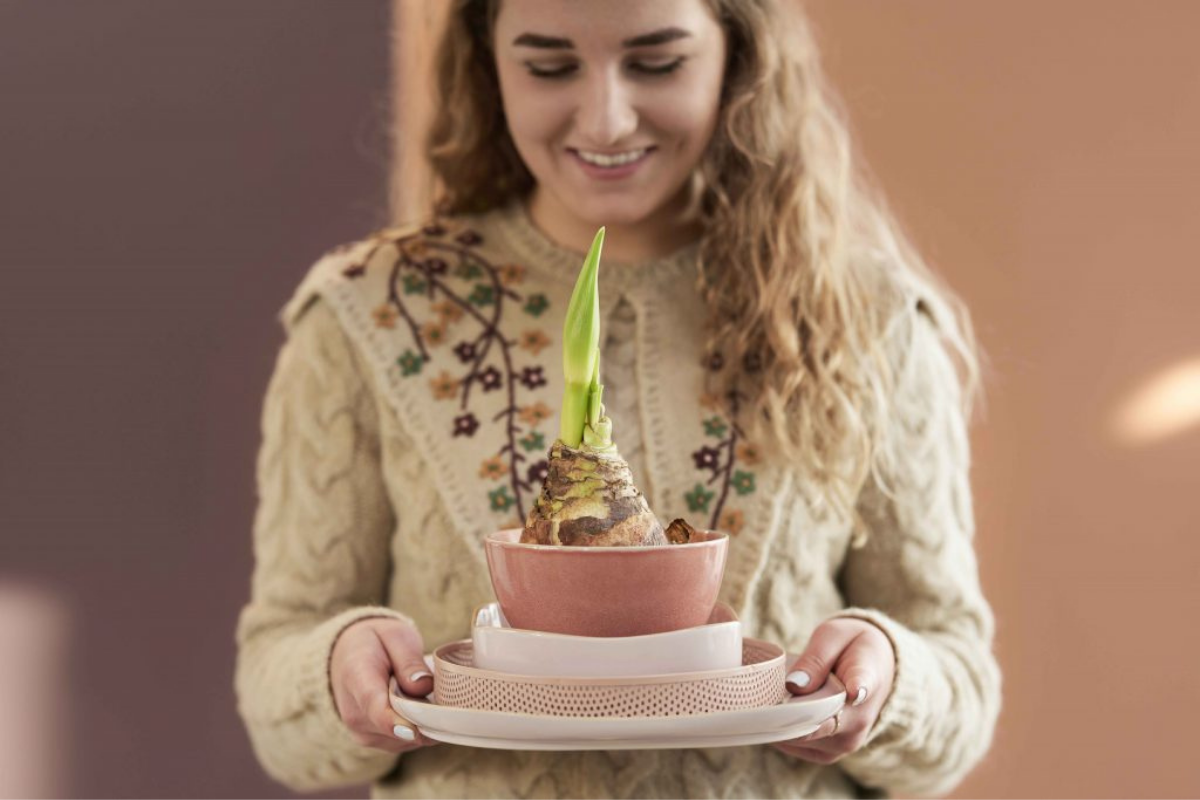 Add a Little Holiday Flair with Novelty Amaryllis
Who doesn't love the holidays? From Christmas trees to festive decorations, there's one special gift you can share with someone this holiday season. There are many different flowers that you can grow indoors through the colder winter months such as Prepared Hyacinths, Paperwhite Narcissi, regular and waxed Amaryllis. To add to the list of winter blooming bulbs, novelty amaryllis are a beautiful way to add some holiday flair this winter. Novelty amaryllis come in many different varieties and all feature their own unique style!
Amaryllis, also known as Hippeastrum, are quite easy to grow. Simply plant novelty amaryllis bulbs in a container with soil, place them in a warm area and water them regularly. Once the novelty amaryllis are planted they will set-out new roots and in a few weeks they will begin to sprout! In about 8-12 weeks you will adore the gorgeous and exotic blooms. Remember to turn the pot regularly and keep the soil moist to keep the blooms straight and long-lasting.
Scroll down to see which novelty amaryllis we are planting this year!
Amaryllis Bogota
If you are looking for a classic coloured amaryllis with a twist, then look no further than Amaryllis Bogota. This amaryllis boasts deep red blooms with apple green accents. The flowers remind us of a fresh take on the classic Christmas baubles seen on many trees, making it great to plant for the Christmas season! The petals on this specialty amaryllis are thinner than classic amaryllis and have an accentuated curve which allows them to really pop. These look great blooming on a mantle or table but would also make a great gift to give to loved ones over the holiday season.
Amaryllis Misty
Another great novelty amaryllis for your winter flower growing is Misty. These beauties are the most unique of all novelty amaryllis with their intricate petals of deep pink that fade to white tips with a red overlay of lines down each petal! The contrast is so striking, you will want multiple bulbs blooming at once just to see them side by side. Plus, this in one of the rare amaryllis varieties that is fragrant, so if you are looking for a flower to add a beautiful aroma to the air then this one is perfect for you. Though it may not be a traditional Christmas color, Misty would be a great variety to grow and have flowering in January – February to add some beautiful late winter blooms in your home.
Amaryllis Evergreen
If you are looking for something fun, colorful, and completely different from their traditional Christmas flowers, then look no further! This amaryllis, with its blooms of apple green center stars and white edges, is truly a novelty. It is a breath of fresh air during those cold winter months. Each bulb produces 2-3 stems, each with 4-5 large flowers so if you are looking for a variety that has impact, then this one is for you. Try them as a table centerpiece or as decoration on your kitchen island.
Amaryllis Barbados
The novelty amaryllis Barbados, similar to the Caribbean island, is bold and beautiful. If you are looking for the perfect flower to bloom that fits in with the classic Christmas colours than this one is for you. The flowers are a deep maroon red with a white stripe in the middle of each petal that gather to a green eye. These striking beauties are dazzling to use as Christmas decorations or as a thoughtful Christmas gift for friends.
Amaryllis Gervase
A new variety we are adding to our growing list this holiday season is amaryllis Gervase. These blooms have a unique look with colour blocking of red among the pink and white striped petals. Just like all amaryllis they will grow to about 45 cm (18") and produces 2-3 stems with 3-4 flowers per stem, making the show big and beautiful. Planting 3 bulbs in a long planter would be great to have in your window sill or as a table centerpiece during the holiday season.
Get in in the holiday spirit with these seasonal blooming novelty amaryllis! Brighten your home with long-lasting fresh flowers with amaryllis! These vibrant bulbs can be planted now and will bloom this winter for a festive addition to any room in your home. Plant some extras as gorgeous gifts for friends and family members who love gardening, indoor plants or appreciate pretty flowers around their homes. Create a new holiday tradition by planting and sharing some delightful amaryllis, that will be appreciated all winter long.
Contact us to find a local retailer near you to pick up these beautiful bulbs and start your indoor winter blooms!