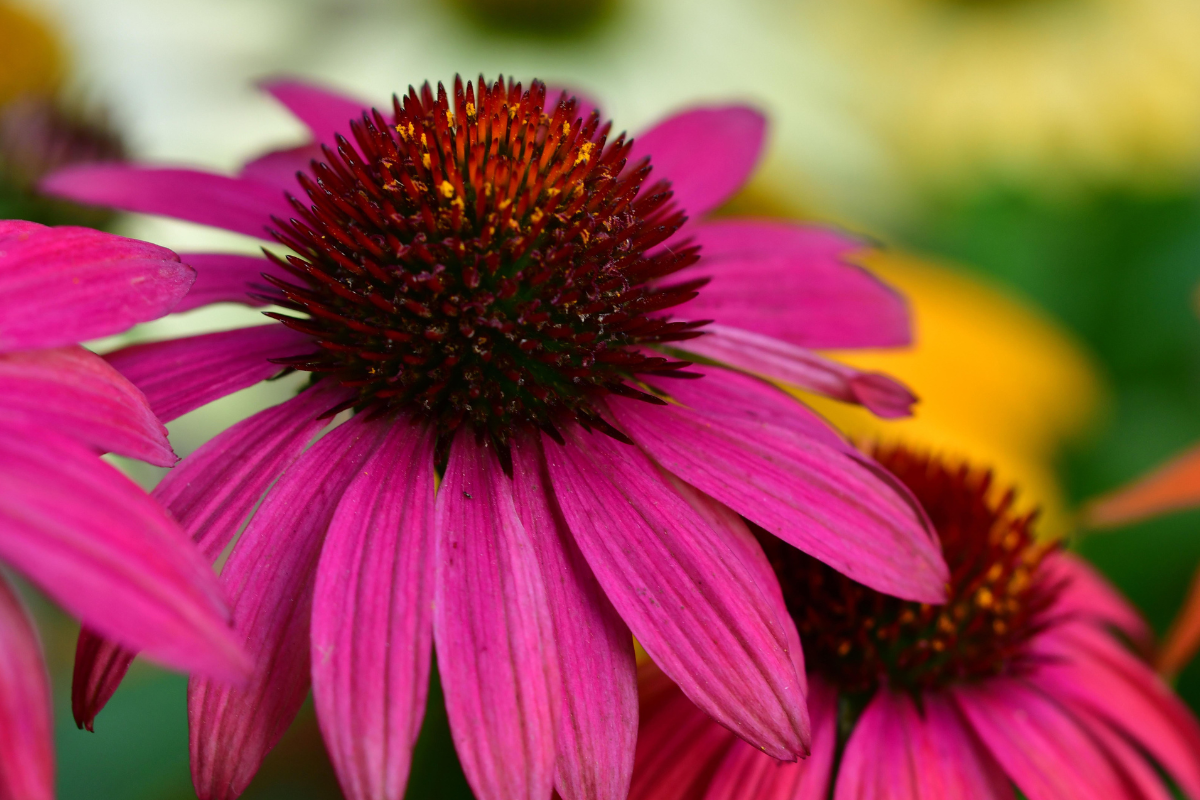 8 Magenta Plants for Your Garden
Long live magenta! Every year Pantone comes out with a Colour of the Year. This year, the colour is Viva Magenta. This vibrant yet deep magenta pink can be found in so many different plant families. So why not try out magenta plants in your garden? With lilies, hemerocallis, astilbe, dahlias and more available in magenta hues, you'll be able to create a spectacular magenta garden that will transform your outdoor space. Come explore with us some of our favourites, to add this vibrant colour to garden spaces.
Sedum SunSparkler Dream Dazzler
When it comes to adding perennials to the garden, sedum is always a great choice. It has the ability to thrive in some of the most challenging areas. When looking for a groundcover, sedum provides a gorgeous carpet of different textures and colours. Viva magenta displays itself in blooms and foliage in many different sedum plants. There is sedum Neon, Autumn Joy, and SunSparkler Wildfire. My favourite is Sedum SunSparkler Dream Dazzler. I love the deep green leaves with the gorgeous magenta edges. During those hot summers, it's nice to have good drought-tolerant varieties such as sedum in the garden. With their thicker foliage, sedum store water in their leaves. This deer-resistant variety blooms from August through September. Dream Dazzler grows to a height of 20 cm (8") with a width of 45 cm (18"). Hardy to zone 4.
Lilium Black Beauty
Lilium Black Beauty brings gracefulness to the garden. Like most lilies, it's a variety that has an amazingly sweet fragrance. This garden giant grows to an amazing 120 cm (48")! I love the exotic blooms of this novelty lily with its reflexed petals, and I know you will too! Blooming from July to August, this tall lily brings a splash of magenta to the garden. Pollinators will also feel very welcome in the presence of these large open blooms. Bring magenta inside your home – Black Beauty makes for an excellent cut flower. Hardy to zone 2.
Hemerocallis Double Pardon Me
Don't forget to add hemerocallis! Also known as daylilies, these beautiful perennials come in many shades of magenta and can bring an extra pop of colour to your garden. To add magenta to your garden, plant Hemerocallis Double Pardon Me. With double 10 cm (4") blooms, Double Pardon Me is a very full flower. This reblooming daylily will send up a flush of fragrant blooms from 2 to 5 times each summer! Reblooming hemerocallis are wonderful for a summer garden and this gorgeous variety will bring colour to your garden beds all season long! It is perfect for planting in mixed borders and containers on the patio. At a height and width of 45 cm (18"), you will be able to enjoy your Double Pardon Me blooms from July right through to September! Hardy to zone 3.
Heuchera Berry Smoothie
Heuchera has always been a perennial favourite and an extremely popular addition to mixed borders and patio containers. As heuchera prefers partial shade to full shade, it's a great variety for underplanting roses and shrubs. My pick for a stunning magenta variety is Heuchera Berry Smoothie with showy foliage all year-round. Keep magenta alive and well for the whole year long! Berry Smoothie boasts intense magenta colour and is a great addition to mixed borders with its clump-forming foliage that grows 45 cm (18") wide. Heuchera prefers moist, well-draining soil, so make sure your conditions are right before you plant. From May through July enjoy small bell-shaped creamy white flowers blooming on slender stems rising 60 cm (24") above the foliage. Remove stems with faded flowers to promote additional blooms! These small flowers are an attractor for pollinators, such as bees, butterflies, and hummingbirds. Hardy to zone 4.
Echinacea Pow Wow Wild Berry
Another one of my favourite magenta blooms is Echinacea Pow Wow Wild Berry. This variety is a perfect choice for garden beds and borders. Enjoy the 10 cm (4") wide blooms all summer long from July straight through until September! There are many different garden benefits to Pow Wow Wild Berry. This variety is attractive to pollinators, deer resistant, and birds will be able to feed off the seeds at the end of the blooming season! Echinacea enjoys a nice full sun location and is drought tolerant once established. Pow Wow Wild Berry is noted to be a nice compact, durable plant that is easy to care for. At maturity, Wild Berry will grow to 60 cm (24") and 40 cm (16") across. Hardy to zone 4.
Astrantia Ruby Wedding
You have probably come across my next favourite magenta favourite when giving or receiving flowers! Commonly found in mixed bouquets, and beloved by floral designers, Astrantia Ruby Wedding makes for a lovely cut flower. Do you love to dry flowers to decorate your home in the winter? Ruby Wedding is perfect! This astrantia also known as Masterwort, has thin wiry stems with pompoms of blooms and grows to a height of 60 cm (24") with a width of 40 cm (16"). You'll be able to enjoy and harvest its blooms from June right through to September. This deer-resistant flower is beautiful in borders and containers. Hardy to zone 3.
Astilbe Younique Ruby Red
In my opinion, a garden is not complete without astilbe. Add a dramatic pop of magenta to the garden with Astilbe Younique Ruby Red. Known for its fluffy-like flower foliage, astilbe showcases showy plumes of flowers. This variety is ideal to plant in pots and containers with its compact habit at a height of 40 cm (16") and width of 45 cm (18"). Imagine it on your patio around your summer seating spaces! Astilbe enjoys moist, well-draining soil in a full-to-part shade location. Your Astilbe Younique Ruby Red will provide an abundance of blooms from June through July. Like all astilbes, it is deer resistant, which is a benefit for those who tend to have unwanted guests visiting the garden. Hardy to zone 4.
Dahlia Poodle Skirt
Novelty dahlias are a fun way to add colour, textures and whimsy to a garden. One of my favourite novelty dahlias of all time is the anemone type, Dahlia Poodle Skirt. I just love its tuft of petaloides sitting upon a skirt of lighter pink petals. This reblooming dahlia will showcase magenta from July through to October in your garden. Plant these in your mixed borders, and you will not be disappointed! Your neighbours and even the mailman will stop and delight in these unique blooms. Growing to a height of 90 cm (36"), these 8 cm (3") blooms are perfect for creating an indoor cut flower arrangement. Dahlias are not winter-hardy. To enjoy your Dahlia Poodle Skirt next year, make sure to dig and store your tubers in autumn before the weather is frosty.
Add these varieties to your must-have garden list now!  Then in spring, take a trip to your garden centre to look for some magenta to plant in your garden. Add a vibrant splash of this year's colour of the year Viva Magenta!