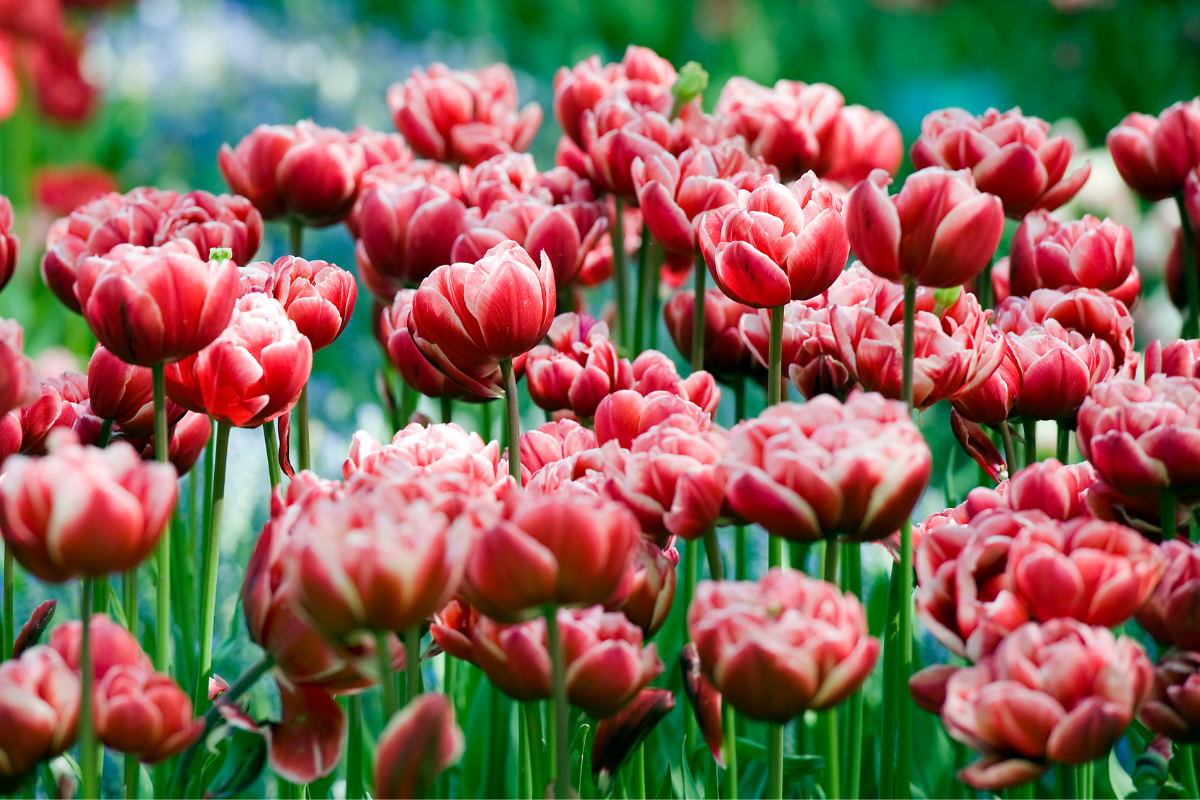 6 Tulips for Every Garden
Fall is just around the corner, and that means it's time to start thinking about planting your tulip bulbs so that they can bloom brightly in the spring. Tulips are one of the most popular spring-blooming flowers for gardens because they can add lots of colors and many have a great spring aroma.
With so many varieties, colors, and options, we've put together this list of our top six favorite varieties of tulip bulbs – which ones will you plant?
Snow Crystal – Double-Fringed Tulip
One of the newest additions to our fall varieties, Snow Crystal is the perfect choice for gardeners who want a tulip that will stand out in their flower beds. This variety is known for its large double blooms of white beauty with green flames on the outer double-fringed petals – which means they're extra showy! When fully open the flowers can be as large as 6″ in diameter, meaning they can fill in the space very nicely. These bulbs bloom in mid to late spring and have a long-lasting show of beauty.
Plant these bulbs by themselves in flower beds and planters or combine them with other late-blooming tulips to enjoy a beautiful show of elegance.
Abba – Double Early Tulip
A tried and true tulip variety to add to your garden is Tulip Abba. This variety is known for its deep red color and easy-to-grow nature. This tulip is quick to bloom in the early spring which makes them a great choice if you want flowers that help bring in the spring season with a pop of beautiful and bright color.
These beautiful blooms can be especially eye-catching planted along borders, in containers, or in flower beds alike. For the best display, plant them in groups of 10 – 15 bulbs or mix them in with other early-blooming varieties. With a beautiful scent, they are sure to make sure the garden smells wonderful. They also make a great cut flower so once blooming, you can cut them and add them to a bouquet to bring the fragrance indoors.
Amber Glow – Triumph Tulip
If you are looking for a stunning ombré tulip, look no further than Amber Glow. With a petal base of yellow blending to a maroon top, this tulip has a unique look. At first, the blooms will give off a golden orange hue but will over time develop into a deep red which will end in a plum wine hue (did someone say wine?). This variety is mid-spring blooming so if you wanted to keep the beauty rolling from the early Tulip Abba, plant this alongside it to have continuous blooms throughout the season.
This variety is perfect for lining walkways or planting in a planter on your deck as it brings plenty of style and can really fill in the space. Liking lots of sun, make sure you plant these tulips in an area that receives lots of light. When the light hits the full blooms, your flowers will do as their name suggests and give off a beautiful amber glow to make for a gorgeous display.
Daydream – Darwin Hybrid Tulip
Looking to fill a large area of your garden with minimal bulbs, look no further than Tulip Daydream. Planting just a few of these tulips will brighten up your garden and provide you with years of blooms (yes! if you care for them properly, they will keep coming back!). A variety that also likes lots of sun, make sure to plant this in an area where it gets plenty of light throughout the day as well as some shade during the afternoon hours if possible.
The large flowers bloom from late April through to May and at a height of 55 cm are perfect for cutting and adding pops of color inside or even using them as centerpieces at dinner parties or other special occasions. The Tulips should be planted in well-draining soil that is nutrient-rich and high in organic matter such as composted leaves for the best results.
Black Parrot – Parrot Tulip
A stunning and elegant addition to any garden is Black Parrot. The dark purple petals with beautiful, twisted edges make it a must-have. Blooming in mid to late spring (Late April – May), pairing it with a simple late white tulip (ex. City of Vancouver) can make for a stunning classic display.
Or if you are looking to make a statement in a floral arrangement, Black Parrot can add an air of elegance. As they love the sun, make sure they are planted in an area that gets lots of light but is also sheltered from severe winds to stop them from blowing over.
Drumline – Double Peony Tulip
Another late blooming variety to add to your garden is Drumline. These beautiful candy apple-red blooms with ivory white tips produce large flowers perfect to add lots of show with only a few bulbs. You can plant in them anywhere as long as they get some good sun. It's difficult to imagine a better gift for one of your favorite outdoorsy people. They'll make your garden brighter and more cheerful.
You have a lot of choices when it comes to the type and color of tulips that you want in your garden. Have you been wondering where can I buy these? We've got some good news for you! These varieties are available at garden centers all over town, so there is no need to go looking far and wide. Contact us so we can help you find a nearby Garden Centre that offers what you are looking for so we can help make sure your yard is perfectly landscaped this spring.
For more information, or to find a garden center nearest to you, please visit find a retailer.