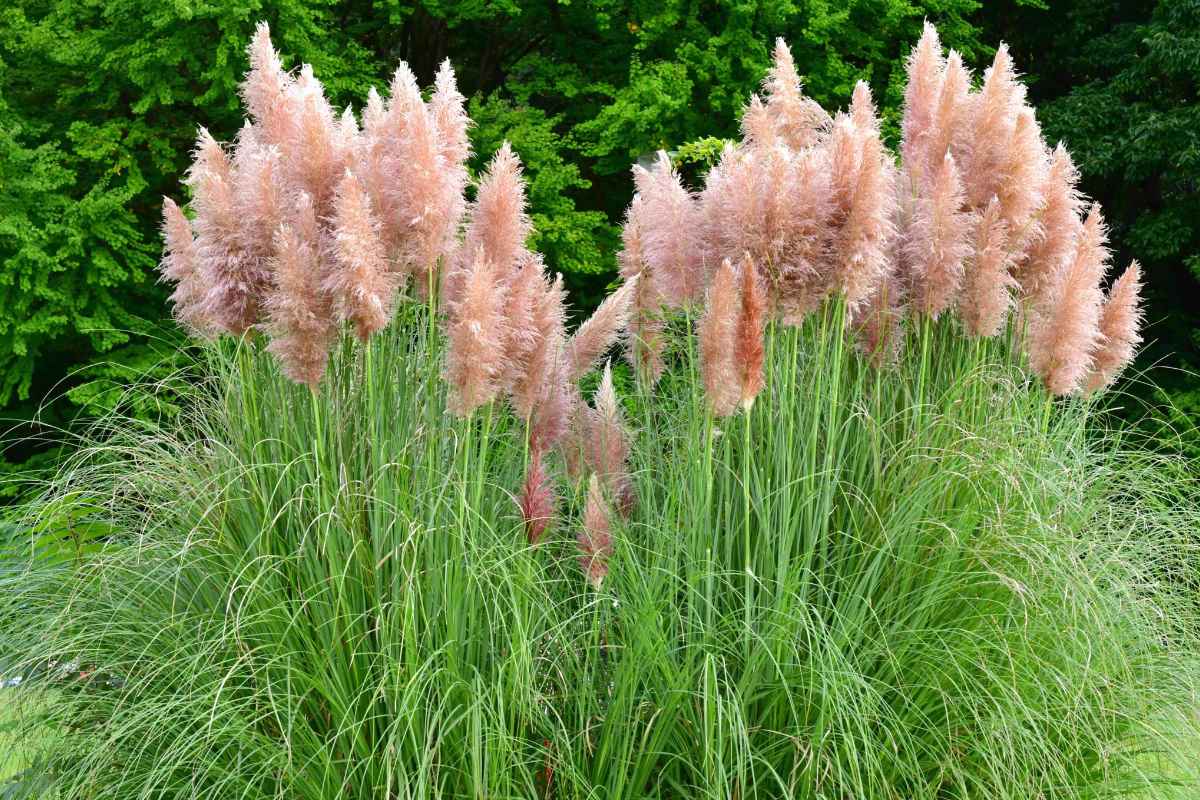 5 Amazing Grasses for the Garden
Ornamental grasses are an easy way to add texture and movement to the garden. They come in many forms, from tall and stately to short and tufted, making them very versatile for any kind of landscape design. Ornamental grasses require little maintenance, and many provide year-round interest with their changing foliage colours and textures. By combining grass into your garden, you add new textures, heights, and gorgeous movement as the wind blows.
Cortaderia selloana (Pampas Grass)
Add a soft and delicate yet dramatic plant to your garden with Cortaderia selloana. Cortaderia, also known as Pampas Grass, is a garden giant, growing to a height of 3 m (10') tall and is hardy to zone 8. Available in both creamy white and soft pink plumes. Pampas grass is very popular to grow, mainly due to its attractive appearance and easy-to-maintain habit. Pampas is a fast-growing, large mass plant. Therefore, before planting, make sure you pick out an appropriate area in the landscape where it will have plenty of room to grow.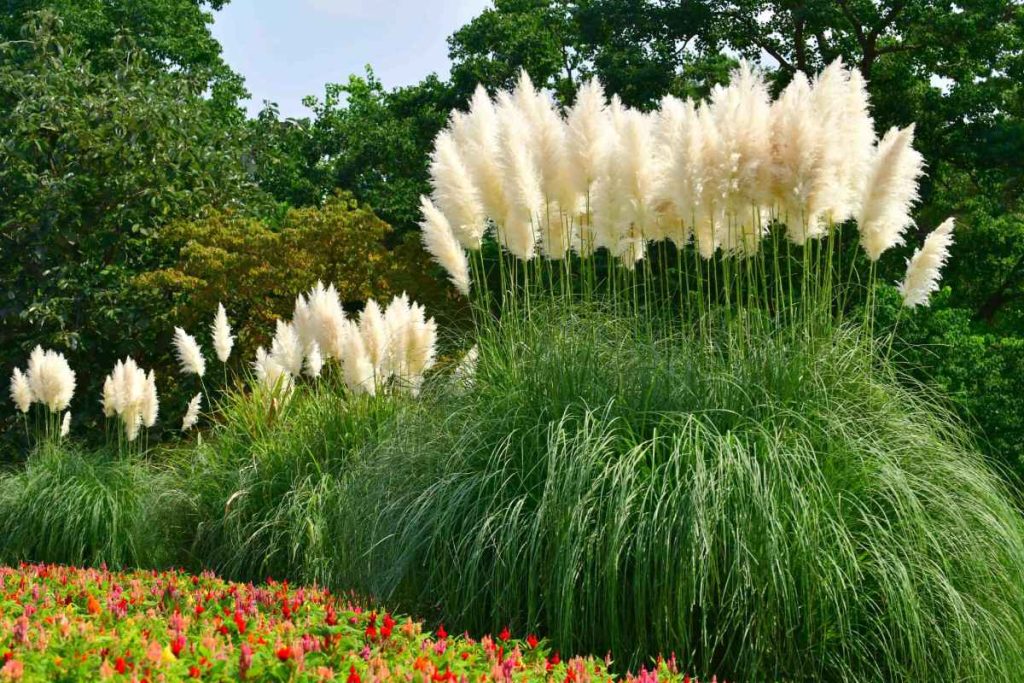 Pampas are extremely popular in the world of dried flowers. With their high price points, if bought in stores, this decorative grass is a gardener's delight. With its showy appearance in the landscape, it also lends itself to being a long-lasting décor piece in the home. Check out our blog on dried flowers for tips on how to cut, dry, and preserve pampas.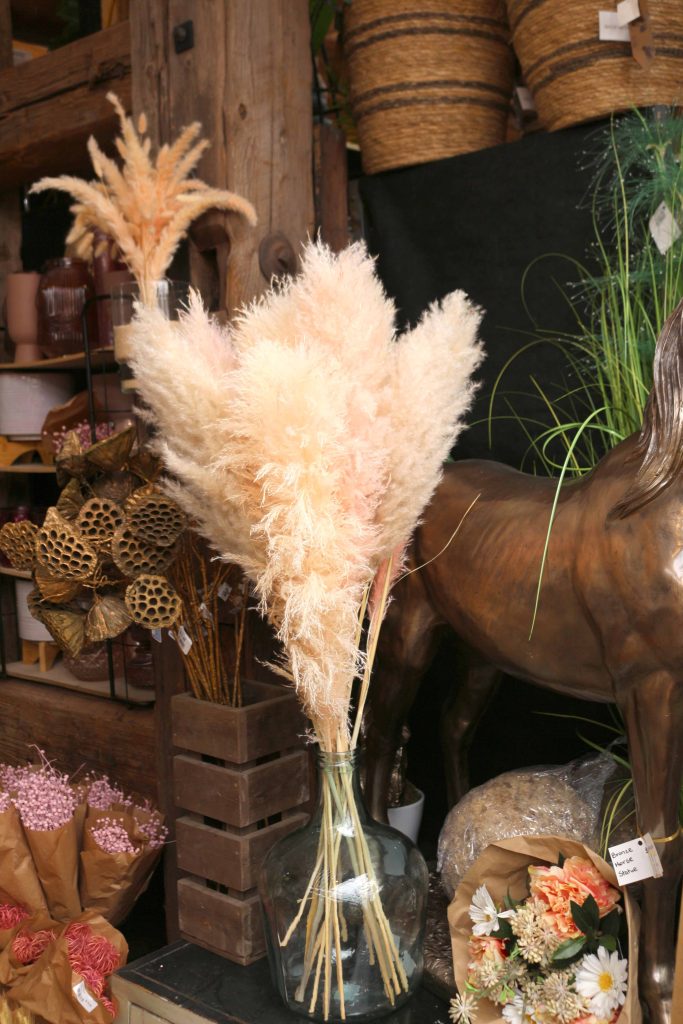 Hakonechloa macra Aureola
Hakonechloa macra Aureola Japanese forest grass, or Hakonechloa, is a low-growing, soft and mounding grass that favours shade. Hakonechloa macra Aureola has variegated, golden yellow blades with narrow dark green striping. The cascading and draping habit of this stunning grass is well suited to slopes, rock gardens, retaining walls, and containers. Slow growing, it will form a clump about 25 cm (10") tall and 45 cm (18") wide.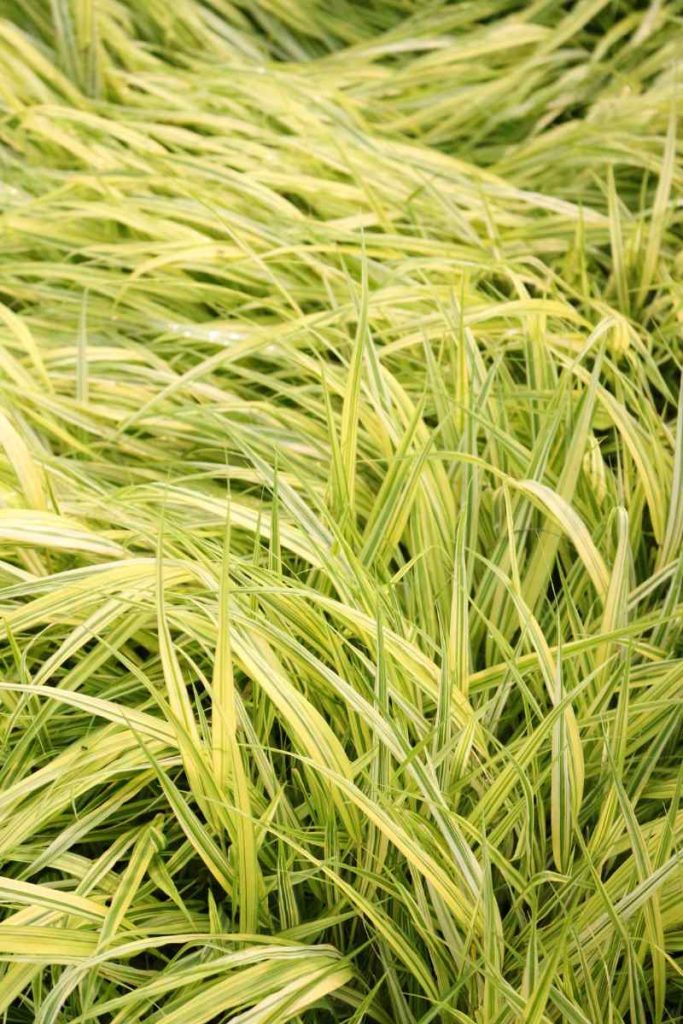 In partial shade, it appears more golden, but in full shade, the variegated striping becomes lime green. In autumn, tinges of red and pink appear in the foliage adding seasonal interest. This variety was named Perennial Plant of the Year in 2009 and has received the RHS Award of Garden Merit. Deer and rabbit resistant and a wonderful addition to containers. Hardy to zone 5.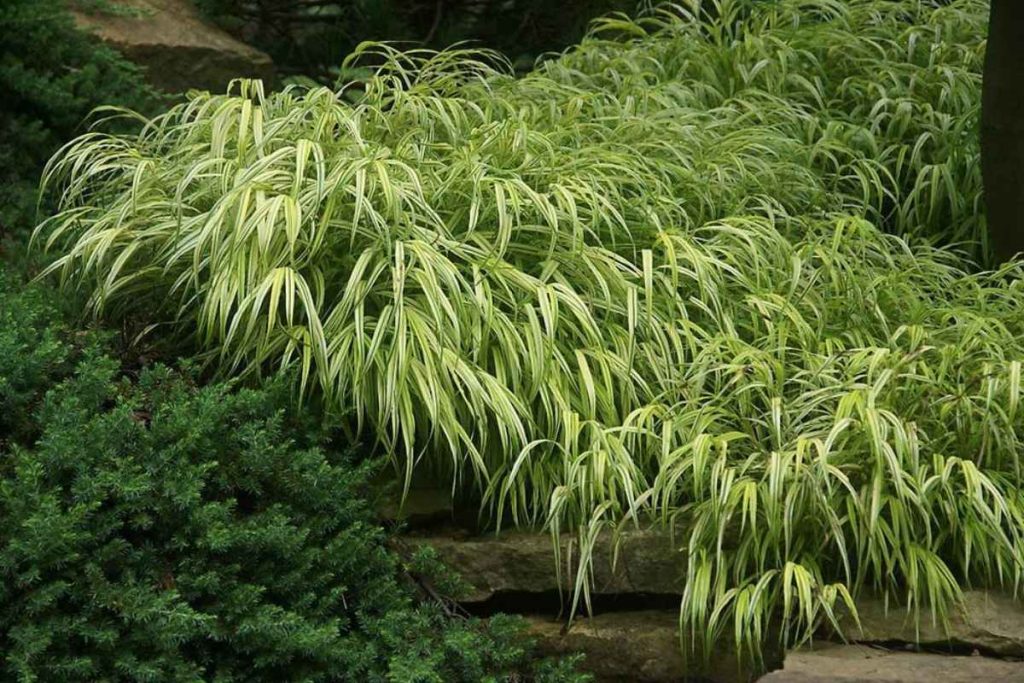 Andropogon Blackhawks
Andropogon Blackhawks is a garden giant that will add fantastic colour to the garden. With a tremendous height of 2.5 m (8'), it is perfect for mixed borders, screening, and massing. Its gorgeous mix of colours is a brilliant addition to the garden. Blades of deep green turn to dark purple in spring, and then deepen to near black. In late summer, flowering stems appear with purple flower clusters. This easy-maintenance grass provides months of garden interest. A drought-tolerant grass that is deer resistant. Plant in a full-sun location. Hardy to zone 3.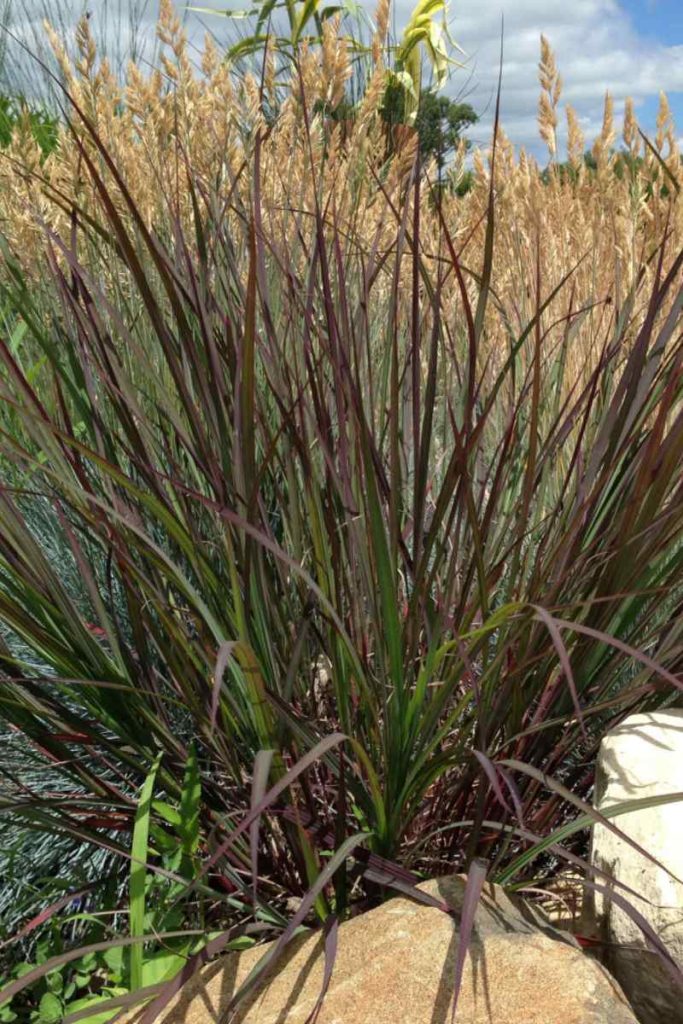 Pennisetum Burgundy Bunny
There are many dwarf grasses that are perfect for adding to containers. Pennisetum Burgundy Bunny is a beautiful miniature grass which fits well into containers, or in the front of mixed borders alongside other varieties. Growing to a height of 40 cm (16"), this grass is a must-have for planting in containers. It's a perfect addition, as the red-accented foliage will add contrast to all the gorgeous flowers you will be planting! Burgundy Bunny is also very useful to add grass to small space gardens. There are many gorgeous grasses that tower in the garden, however, Burgundy Bunny is a stunning compact choice which can be utilized in smaller areas. There is no reason to miss out on having grasses in your garden! Forming a dense clump, this grass appears bright green in the summer months and becomes bright red come fall. Hardy to zone 5.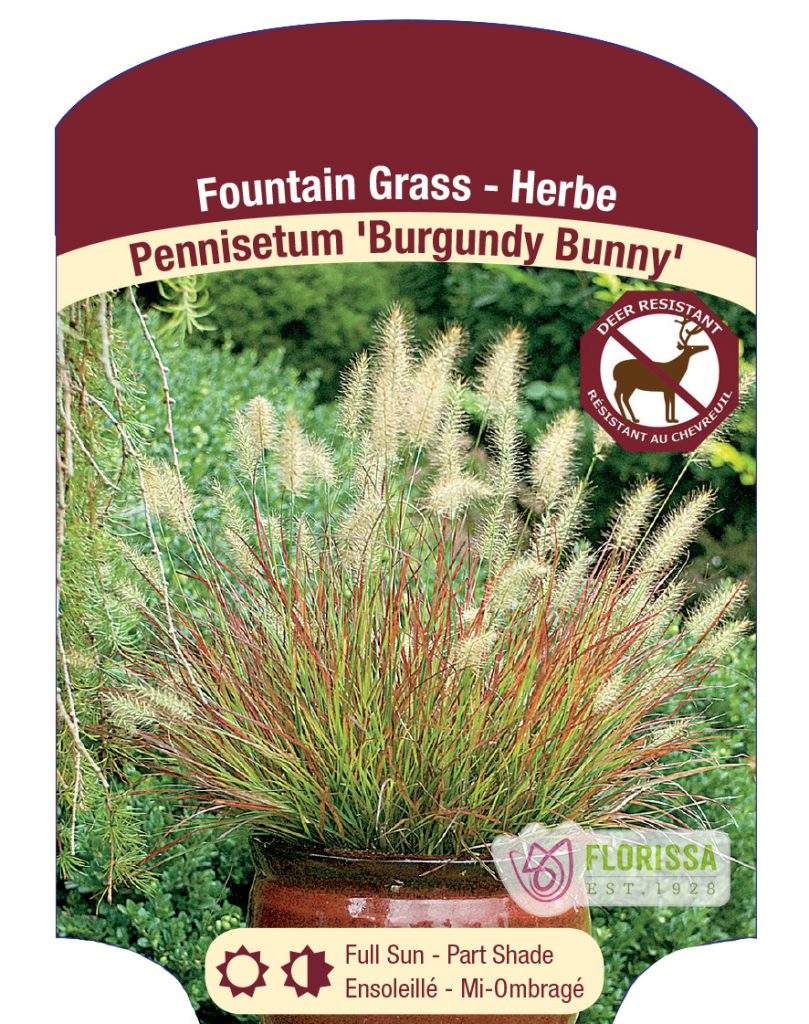 Calamagrotis Karl Forester
Calamagrotis is a very popular grass for gardens. There are many different grasses to choose from in the Calamagrostis family, yet one of the favourites that always stands out is Karl Forester. Upright and straight, Calamagrostis Karl Foerster is prized for its vertical wheat-like plumes that appear in late spring and last throughout the summer. Delivering great contrast when planted among other low-growing shrubs and perennials, this variety of feather reed grass grows 180 cm (6') tall, forming a 60 cm (2') wide clump. Karl Foerster also prefers full sun and moist, fertile soils, though it will tolerate clay and dry sandy soils. Deer and rabbit resistant, it is also drought and salt tolerant. This grass was named Perennial Plant of the Year in 2001 and is hardy to zone 3.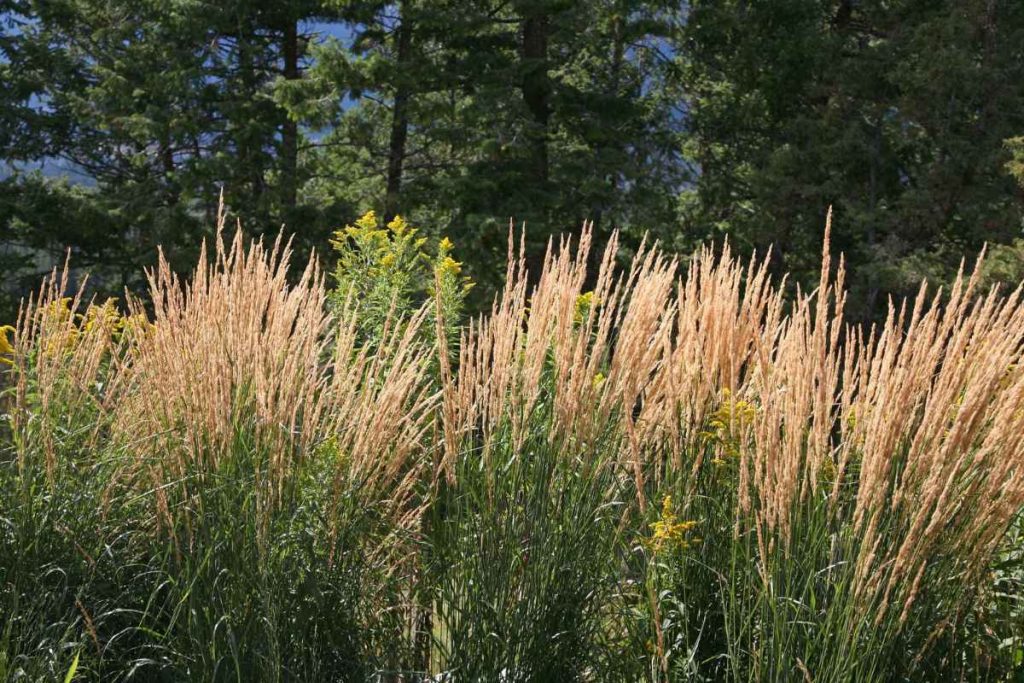 Grasses create beautiful texture and movement in the garden as they provide an element that few other plants can do. They catch the wind and move gracefully in the garden air. With their changing appearance throughout the seasons, you will be blessed with year-round interest! Available in so many heights, colours, and forms there is a grass that will appeal to every gardener.