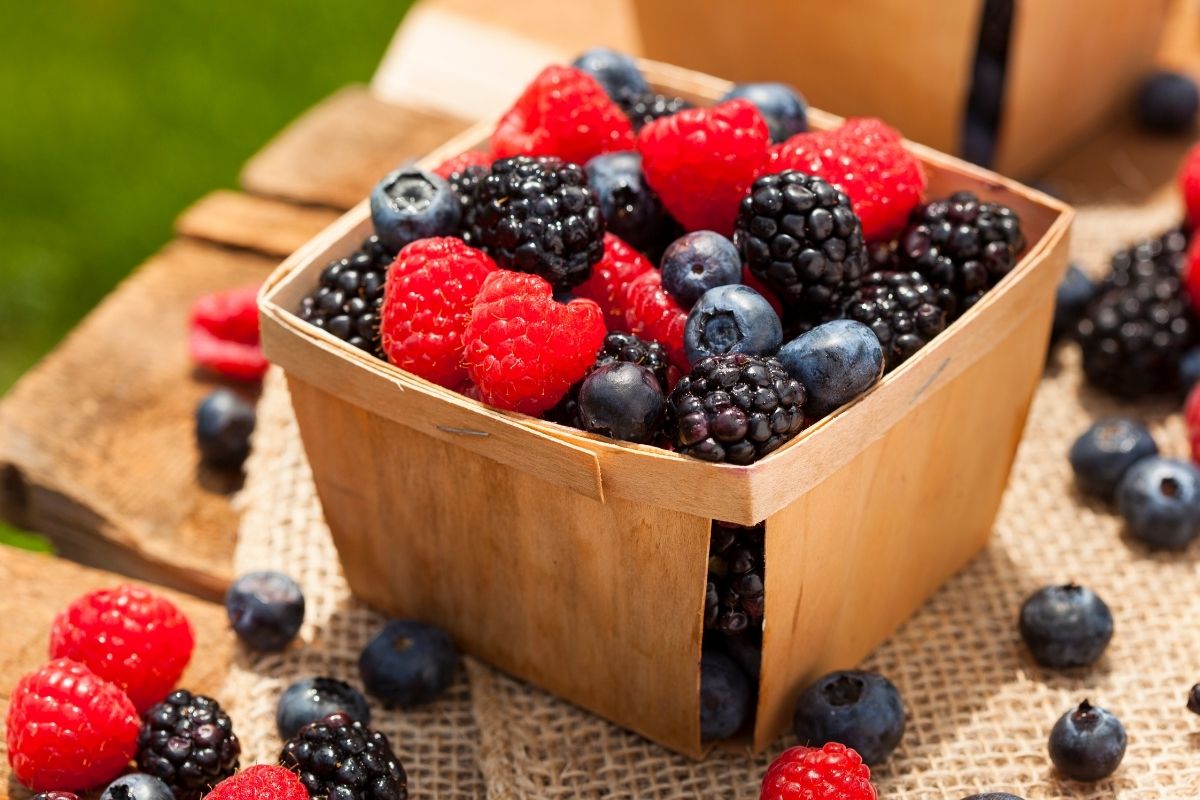 Small Fruit in the Border
"One of the most delightful things about a garden is the anticipation it provides." W.E. Johns
Raspberries, blueberries, strawberries, and currants are crossing over from the veggie patch and establishing their rightful place in the mixed border. If you have room for a perennial garden, you can combine fruiting plants with decorative ones to create a space that is both beautiful and abundant.
Easy to grow and good for you, small fruits begin producing the season after they're planted.
By their third season,
they're bearing full crops.
Growing your own fruit can amount to quite a savings, and you can enjoy nature's bounty at its peak just steps from your kitchen. Small fruits are seldom bothered by pests, and many are self-pollinating. They can be grown in small spaces, and are attractive as any shrub or perennial.
You may be wondering, "Where can I possibly fit small fruit into my garden?"
Strawberries are tempting treats cascading from hanging baskets and containers where they are protected from slugs. Where slugs aren't an issue, consider planting strawberries as a ground cover, edging the front of the border instead of low growing perennials. Strawberries enjoy full sun and well-draining soils; try combining them with Lavender and Echinacea. Bring the bees around and pollinate your berries.
Blueberries, currants, and gooseberry bushes can shape an informal hedge along a south or west facing border. Plant the same variety throughout the hedge row for uniformity, spacing them 60-90 cm (2-3 ft.) apart. Blueberries thrive in acidic soils; add plenty of peat moss and compost to the soil when planting. Your local garden centre can help you select the best blueberry varieties for your hedge as well as provide key nutrients. Dwarf Blueberries can also be grown in large decorative containers placed among flowering perennials in the border. After the delicate white bell shaped flowers of spring, you'll enjoy an abundance of fruit in mid-summer. In autumn, the foliage flames a brilliant red in the garden. Combining blueberries with later flowering perennials such as Asters, Echinacea, and Rudbeckia can create a stunning showcase.
Climbing up and over an arbor, grapevines are fashionably Mediterranean, offering restful shade on the hottest summer days. Climbing roses like similar conditions and can be easily grown with grapes. Among roses and tall monarda, a pergola of rambling thornless blackberries or hardy kiwi can be inviting to hummingbirds as well as the kids for easy picking.
Rhubarb becomes a natural focal point in the perennial border. Its large leaves and thick juicy red stems contrast superbly with daylilies, oriental lilies, poppies, peonies, sedum and crocosmia. It also masks the fading foliage of spring flowering bulbs such as allium and tulips.
Beyond the veggie garden, there are many fruitful ideas to explore. Small fruits are hard-working and each spring require well-aged compost and mulch. Regular watering is essential to berry production, especially if you're growing small fruits in containers. Anticipation builds as the green fruits begin to swell. Pick fruit as it ripens to enjoy throughout the harvest. If the berries are plentiful – wash and pop them into the freezer – they'll be terrific in a refreshing smoothie.