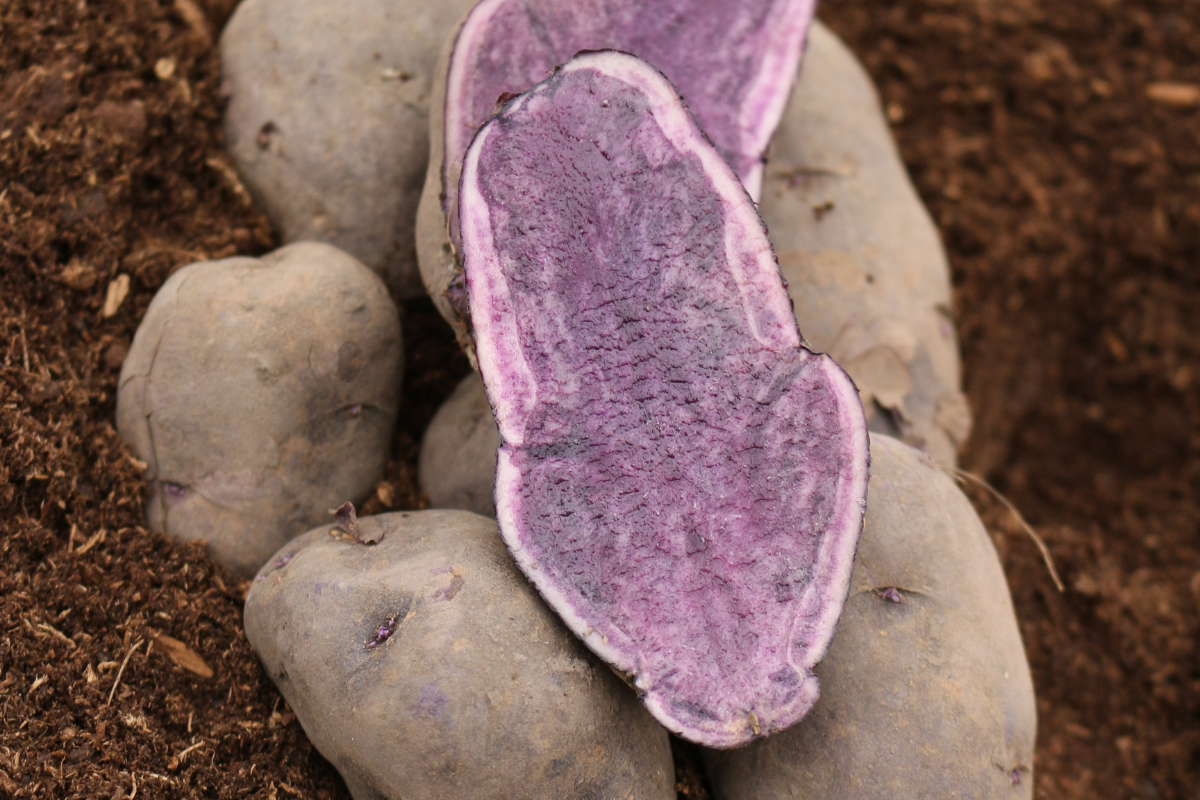 Purple and Blue Potatoes
Fun and exciting on your plate, vibrant purple and blue potatoes are more nutritionally beneficial than other potatoes regularly consumed. Loaded with anthocyanins and carotenoids, they offer as many anti-oxidants as found in spinach or kale. High in carbs, low in fat, these potatoes also have a moderate amount of dietary fiber. Their skins are rich in vitamin C too, and they taste great, just like those other potatoes. If you're thinking you might have to give up potatoes, then the purple and blue potato might be the best choice for you and everyone at the table.
Violet Queen
Violet Queen is a specialty potato with deep purple skin and flesh descended from ancient Peruvian varieties. It smells sweet like red beets when cooked and tastes great. Violet Queen retains its color through cooking and is great for boiling, steaming and baking. Try chipping them for their bright purple colour. Violet Queen produces high yields of oval shaped tubers early to mid-season.
Russian Blue
Russian Blue is a late season heritage variety from Russia. The round to oblong tubers are large to medium sized and have dark blue skins, with interior purple blue flesh.  There is a white ring beneath the skin that is a defining characteristic of this variety. Mild tasting, with a texture much like a russet, Russian Blue potatoes are ideal for mashed or fluffy baked potatoes. Roasting or grilling these potatoes is also highly recommended, as this cooking process darkens their colour.
Toss potato wedges on a sheet pan with minced garlic and fresh chopped herbs such as thyme or summer savory in olive oil. Arrange them in a single layer, adding salt and pepper to taste. Roast or grill the potatoes, occasionally turning them, until they are browned and fork tender.