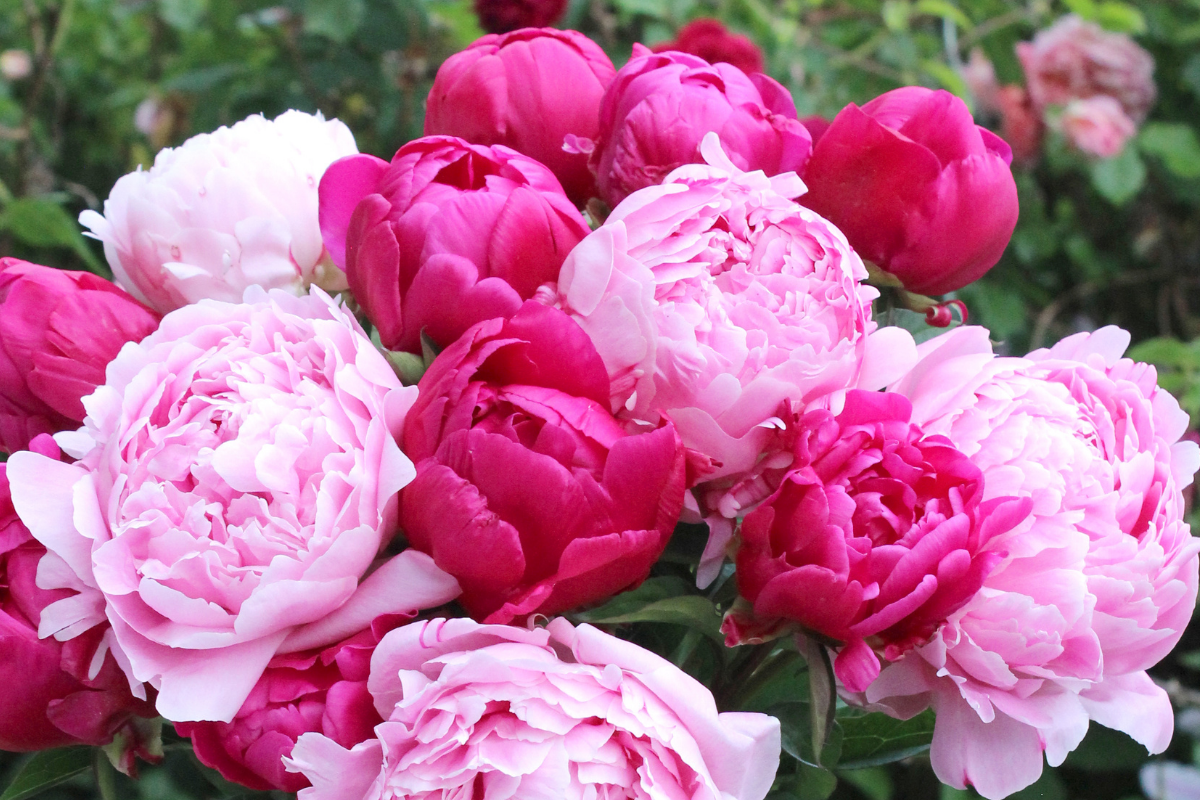 Florissa's Choice of the Year – New for Spring!
During the dark days of winter we dream of spring, and during the colourful months of spring, we wish they would never end! So, when spring finally arrives there is nothing more exciting than getting into the garden. With new varieties, colours, and blooms, it can be hard to pick what you want to try this year in the garden. With that, we've chosen our top 5 favourites, as well as Florissa's choice for 2022 and hope this gets you just as excited for spring as we are!
Paeonia Table for Two
This stunning peony duo has been named Florissa's Choice of the Year for many reasons, making this a must have in your garden. With gorgeous full blooms, the contrast between the light and dark pink makes for a perfect combination. Everyone needs to have some peonies in their garden – it's a garden staple. With its amazing fragrance and strong stems, this peony pair is perfect for cut flowers. Bring them inside or share with friends – these blooms will bring a smile to all! A key to success when planting peonies is the depth at which the roots are planted. Plant the bare root 2" below soil level, not too deep and not too shallow, this allows them to find the light to help them grow! Best of all, each year they will bear more and more flowers – talk about a plant that keeps on giving!
Dahlia Muchacha
Picking a favourite Dahlia is nearly impossible! With so many varieties coming out each season, the possibilities are practically endless. This year one of our top picks is Dahlia Muchacha. With a dark burgundy center, 12 cm (5″) blooms open into colours of pink and white. This dahlia makes the perfect cut flower, adding colour to any space in your home. Growing to heights of 65 cm (26″), this dahlia can be planted in containers, or right into the garden. Plant in the full sun and enjoy these gorgeous blooms from summer until the frost in autumn!
Lily Roselily Anouska
Fragrant, pollen free, and they make great cut flowers – what more could you ask for! The perfect pop of bright pink and white in any space. With upward facing buds, these dramatic blooms stand tall greeting you with its full flowers, with more petals than any other lily. These pollen-free blooms are ideal for cut flowers as they will not stain tablecloths or clothing. When fully open this roselily has resemblances to a classic garden rose, therefore given the name roselily. This new showstopper is a necessity in your garden this year. Everyone must experience the beauty of roselily Anouska!
Pop Art
The perfect flowering trio! New to Florissa this year, is the perfectly paired Platycodon Pop Art! Balloon-shaped buds transform into flaring bell shaped blooms adding a new look to the garden. Platycodon is widely loved by many gardeners and has received the Award of Garden Merit from the Royal Horticultural Society for its amazing characteristics. This deer resistant perennial thrives in well drained soils, and in full sun or part shade. Watch this Platycodon come back year after year, bigger and better, bearing more flowers with each spring season.
Caladium Candidum
Striking foliage with bold contrast, this Caladium can add beaming light to any garden. Being a shade lover, plant Caladium in the shaded areas of your garden, or shady window boxes as this versatile plant loves both containers and the garden bed. Also known as Angel Wings, their unique foliage is a bright white with dark green veins, adding texture and shape to the garden. Caladium thrives in warm well-drained soil. Best of all, Caladium Candidum is deer resistant! No need to worry about our furry friends munching on the leaves. Plant directly in the soil in late spring when the soil temperatures are 15 C (60 F) or start them early in containers indoors. Watch them grow throughout the summer months!
Strawberry Flamingo
With unique white and blush pink flesh and bright red seeds, the Flamingo strawberry is a must try in your garden this year. This June bearing strawberry produces masses of fruit in, you guessed it, June! With a unique flavour similar to that of pineapple, this strawberry will be a hit in the garden! Enjoy the berries fresh in fruit salad and desserts where the unique colour can be appreciated. This non-GMO strawberry hybrid is a unique addition to any gardener's strawberry patch. A fantastic, lush strawberry to give a try this spring, and to diversify your fruit harvest!
Try one of Florissa's new varieties for the year, by looking for the 'NEW' logo while at the garden centre! Looking for the closest Florissa retailer near you? Contact us today to find a retailer near to you! We hope you're just as excited as us to try out these new varieties and watch the garden bloom!